and I'm really tired...

and I'm gonna do something I rarely do on my blog...I am going to talk about current events...
First...I found some tickets to the Alicia Keys concert when she will be performing in Newark, NJ! I am talking to my daughter and realize that D*MN I can't buy the tickets! Why?! Because we are seeing the play, Thurgood with Laurence Fishbourne the same day....can you hear my disappointment where you are...there is a lot of sighing going on over here!
Next...what the heck is this all about!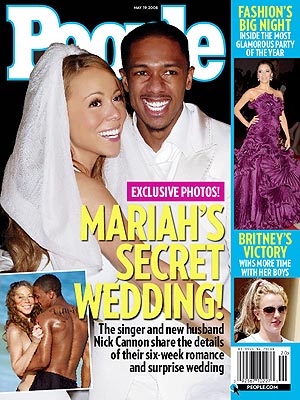 Can someone explain this to me!?! I have been buggin' off this one all week...I mean I like Wildin' Out, think Nick is a nice guy, and love Mariah's music but Nick & Mariah...I am speechless...moving on...
Ummmm...I am sooooo ready for the Democratic Primaries to be over. I have waited as long as I could before adding something to my sidebar about my choice for the next President of the United States...but since I can "obviously do the math" and realize that Hilary just can't pull it off (

even though she was not my choice for President!

), I just want her to exit the stage gracefully and SOON!
And can someone please tell me what the H*ll is going on with Lost! I AM Lost! When are they getting off the friggin' island???
Finally and I'm going to bed after this one...On American Idol, Syesha is safe and in the top three! I have to admit that I have been using 2 cellphones and my work blackberry (shush!) to vote for 2 hours straight to keep this girl (who can sing) in the competition! I truly believe that its my time and effort that has kept her in it! *LOL* She made me cry last week when she sang, "A Change is Gonna Come!"
And if you missed it...here she is...
and thank goodness no one agreed with Randy!
I promise back to sewing tomorrow...